At the end of 2019, Dreame, the battery vacuum cleaner manufacturer from Xiaomi's ecosystem, began a strategic rethink. More products in less time. The brand managed to produce the V9, the best battery vacuum cleaner from China to date, for around $200. And then? The model was further revised and released under new product names. Confusion among consumers.
Now a few weeks ago we discovered the Dreame V11, which, unlike two predecessors, could shine again with strong new features. We tested it and competed against the Dyson V11 Absolute. Spoilers: It's the manufacturer's long-awaited flagship model.
Dreame V11 battery vacuum cleaner
Technical data: Comparison to Dreame V10
Further down you will find the comparison to the Dyson V11 Absolute, for the sake of clarity we will compare the technical data only with the direct predecessor.
Dreame V11

 

Dreame XR

 

Suction power
25.000 pa
22.000 pa
App
no
no
Display
yes
no
Wipe function
no
no
Operating Volume
65, 69, 73 dB (depending on suction stage)
63, 66, 70 dB (depending on suction stage)
Battery
3000 mAh
2500 mAh
Working time
90, 30, 10 min (with increasing suction stage)
60, 30, 10 min (depending on suction stage)
Charging time
4 h
3,5 h
Suction stages
three
three
Dust chamber
0.5 l
0.5 l
Dimensions
122.1 x 20.2 cm
115.0 x 26.0 x 22.5 cm
Weight
1.6 kg as manual vacuum cleaner, 3.9 kg completely removed
1.5 kg (as manual vacuum cleaner)
CE mark
yes
yes
However, Dreame has to be credited with something completely different from Xiaomi's release strategy: Since V7, the models have been named chronologically as far as possible: V7, V8, V9 etc. Every now and then a model steps out of line (yes, it's you, XR!) or there's another version (V9P for example), but with Dreame it's still comparatively simple to look through the individual models.
Scope of delivery
Dreame always comes with one or two specials in its scope of delivery – at least in comparison to other manufacturers. Within the Dreame universe, however, this is almost always the same, as with the V11:
Suction pipe
Main element with attached 0.5 l dust chamber and handle
Floor nozzle with attached soft roller
Charging cable
Joint attachment
Brush attachment
Mite essay
Flexible hose
Wall bracket with screws and dowels
Operating instructions, Quick Start Guide in English
The typical and very practical Dreame wall mount is also included. This is welcome, is increasingly copied by other manufacturers and is quickly attached to the wall with plugs and screws. Since the V11, like almost all battery vacuum cleaners, does not stand by itself, you have an elegant storage and battery charging option on the wall.
If you attach the holder near a power outlet, you can charge the 3000 mAh battery by simply hanging the removed V11 together with pipe and floor nozzle into the holder. The battery is already charging, everything can be easily read in the operating instructions. Also to be emphasized is the flexible hose, which I never use, but can be practical to work in corners or more flexible.
Design and processing
Visually, the V11 reminds me a lot of Roborock's first battery vacuum cleaner, the H6. Not only because of the gray and red coloring, but also because of the roughly equal sized display above the shutter release. The workmanship and plastic used are top notch and keep up with Dyson, Roborock or Tineco.
However, I read recently that someone tried to minimize the clearance between the click catches on his Dreame V9. That means the area between two parts that are put together, like the intake manifold and the main element. So I looked at this area on the V11 and actually: There's a bit of space in between, but it's not negative or loose, nor does it hinder the performance in any way.
Unfortunately, as always with Dreame, the battery is not replaceable, so the lifetime of the vacuum cleaner cannot be extended. And a little tip: better not take off the "Dreame logo sticker" on the top. I did that and it, uh, doesn't look as cool as it did with. The Dreame V11 is, like almost all models today, a 2-in-1 model, meaning that the cordless vacuum cleaner can be quickly converted to a handheld vacuum cleaner.
Three small LEDs below the handle indicate the current battery and charge status. You don't need them because of the display, but they are nice to have. There is no CE-marking, but this is probably also due to our China test version and will change with the international version.
The display
Displays are being installed more and more frequently in the new flagship models. These can be useful for displaying the remaining working time, current suction level or error messages. But they also drive up the price, although most of the information on displays can also be made comprehensible in other ways (LEDs, sliders, etc.). I am a fan of displays on vacuum cleaners, but I must also say that they are not absolutely necessary.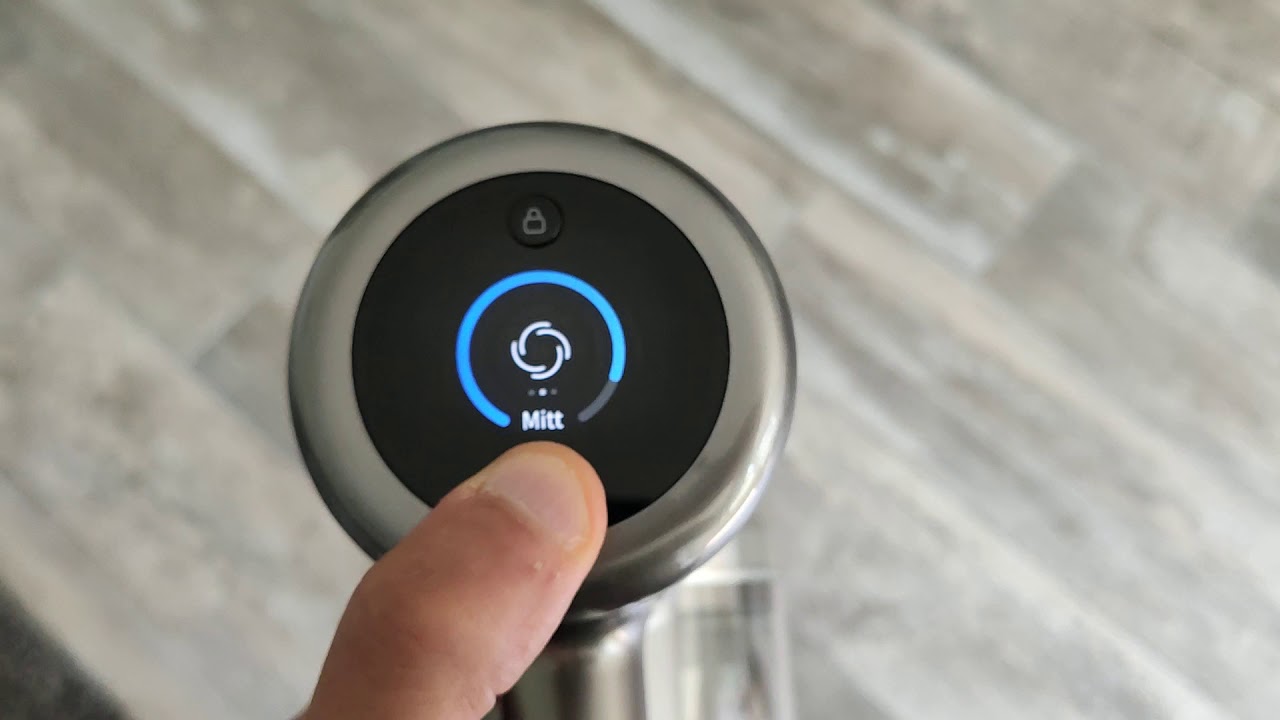 Since you would like to understand some of the indications on the display after all, it is very pleasant that other languages are available on the display. This is how you set the language:
Press and hold the lower control for 3 seconds. The language selection menu opens.
Press the lower control element several times until you read, for example, "German". Scroll through the languages, so to speak.
If "German" is highlighted in the middle of the display, press and hold the lower control element for 3 seconds. The language setting is stored.
The following information can be read graphically, textually and in color:
Battery status in percent (also during recharging)

also "Battery low" and note when battery is completely empty

active suction stage (Eco, Medium, Turbo)
Replace/reset filter
Clean brush
various warning and error messages

Air duct blocked (check elements for blockage: pipe, dust chamber or floor nozzle)
Battery overheating (just wait half an hour until cooler again)
Battery failure (case for repair)
That's quite a lot of useful information the display offers. Through the hints as well as warning and error messages, one has a better overview of what the battery vacuum cleaner requires and what one has to do accordingly, so that it runs smoothly. One can also read the battery status through the displayed ring. The ring is displayed in blue when the battery level is over 20% and red when it is less than 20%.
If Display, then as with the Dreame V11.
Handling and performance
Clever: Dreame copied the unlocking and locking of the shutter release from Roborock. So the user can decide for himself if he wants to keep the power button pressed or if the V11 should vacuum continuously with one click. This is a never-ending topic of discussion that becomes obsolete. I am absolutely Team One Push. After a charging time of 4 hours, the V11 is ready for a working time of 90 (Eco), 30 (medium suction) or 10 minutes (Turbo).
The lowest suction level (Eco) is still so powerful that it can be used very well on hard floors or not too dirty apartments. And that for an hour and a half? Not bad. The dimensions of 122.1 x 20.2 cm can be used by people up to 1.95 m tall without any problems (I had my small but tall 2 m brother test this). Even the weight of 3.9 kg completely removed does not spoil a pleasant handling.
The handling is very pleasant, in addition the motorization of the floor nozzle. In other words, the Dreame V11 pulls its user a little behind it, which makes you feel even less like you're really doing housework. We know this from the Roidmi models, for example, but it wasn't the case with previous Dreame models. I'll take you on a tour of the apartment to get a better impression: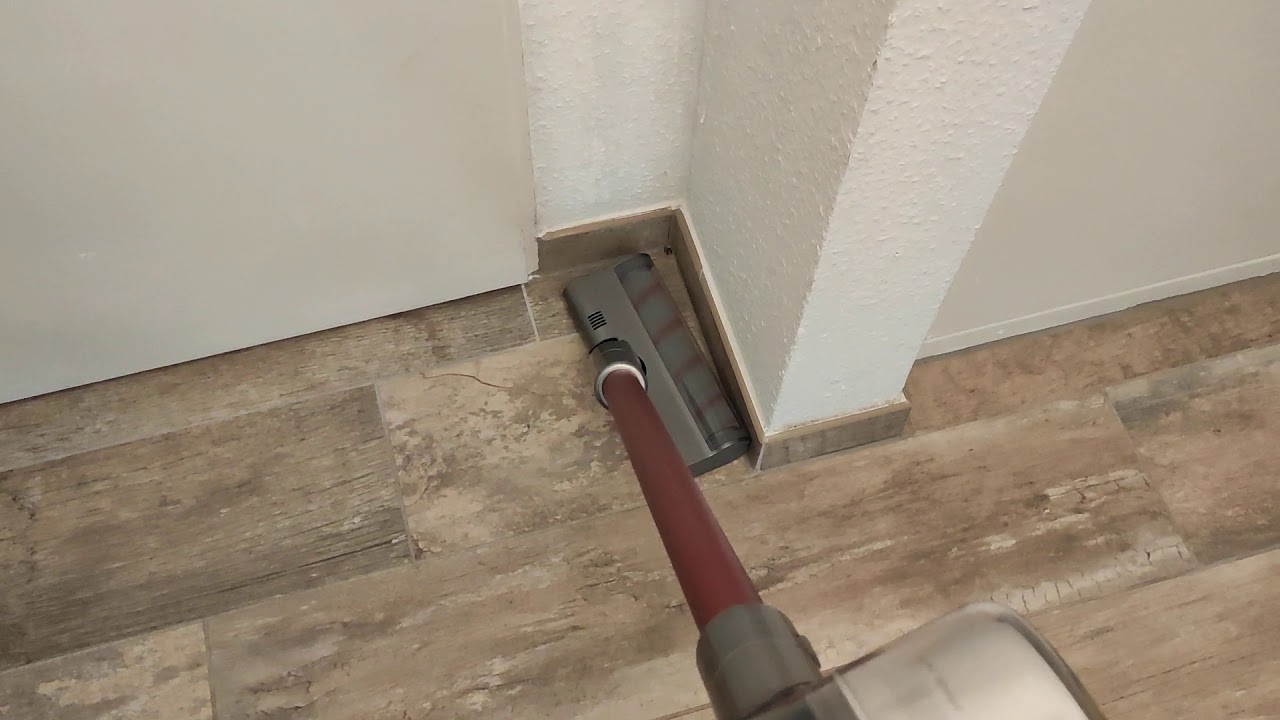 The V11 also pulls something out of thick carpets, no question. However, this is due to the suction power, as the Dreame with the soft roller is not properly equipped for carpets.
Here comes what I consider the best, but almost the only argument why you should buy the Dyson V11 Absolute instead of a Chinese model: The Dyson's included Torque Drive Brush bites so hard on the carpet (super technology) that you want to press other models onto the carpet with a lot of force.
So if you want to clean the thick carpet completely, there is no way around the Dyson. If carpet, then Dyson.
Attachments of the Dreame V11
In combination with the high suction power, the hand-held vacuum cleaner is a solid support in the household when you want to vacuum up something quickly. It also cuts a good figure in the car. In addition, there are a few attachments that can be helpful in various situations. However, these are anything but an adjustment feature, as they have been included with almost every cordless vacuum cleaner for a good year or two. But not without reason.
So Dreame thought, let's include a mite attachment in the scope of delivery, as all manufacturers do by now. House dust mites are mainly found in bed or textiles and are not good for allergy sufferers. This is now the short version, because I want to spare you a lecture about house dust mites. Allergy sufferers know about it anyway, but if you are still interested, read here.
Then we have the joint attachment, with which you can (as the name suggests) clean in joints or grooves or remove cobwebs from the ceiling.
Last but not least, the brush attachment, the classic hand-held vacuum cleaner attachment. With the medium-strength brushes you can go over surfaces such as tables, shelves or similar.
Empty dust chamber contact-free
The collected dirt and dust passes through up to five filters until it reaches the HEPA filter. This can be washed out as usual. The 0.5 l dust chamber, which must be emptied from time to time for more intensive cleaning, is of average size. The chamber can be emptied contact-free by briefly pressing the trashcan symbol above the trashcan. As the dust chamber cannot be removed from the handle, there is also no other procedure. It does not need to be.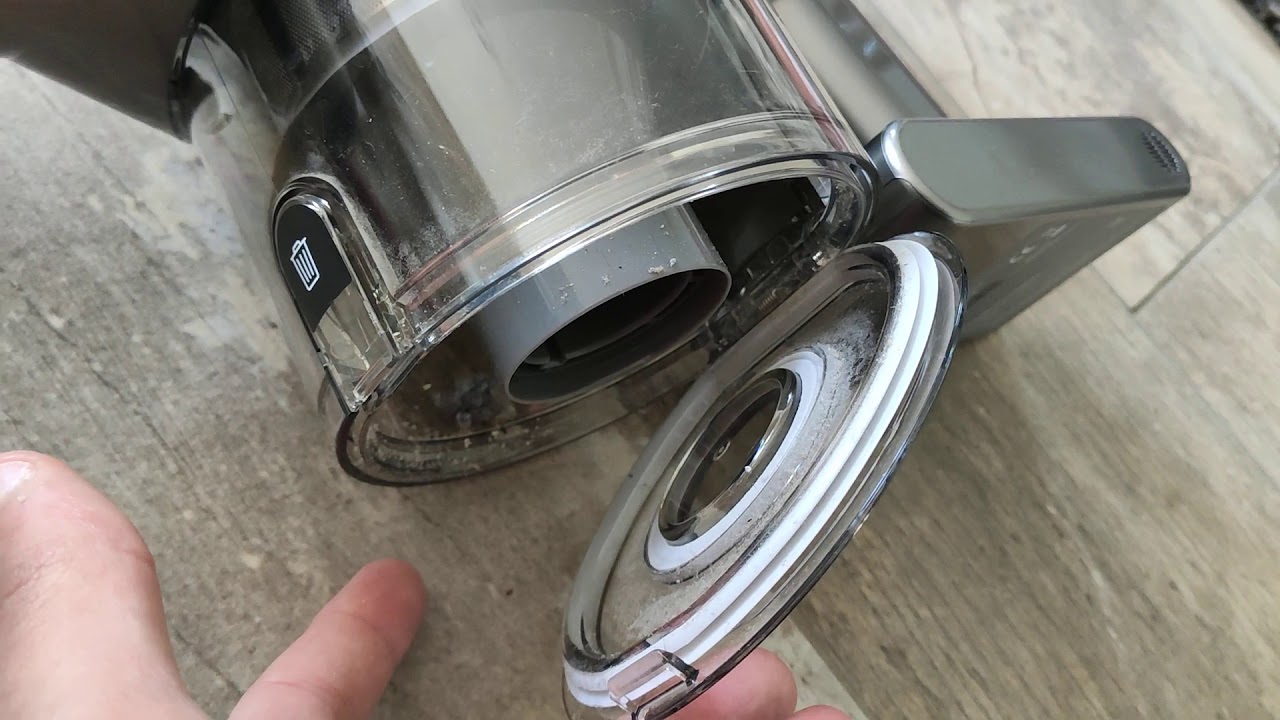 Allergy friendly, fast and simple. That's the way it has to be! Praiseworthy are the 25,000 pa suction power and 125,000 revolutions per minute with which the motor works. Values that, at least on paper, correspond to those of the Dyson V11 Absolute. Hmm, which one of them is ahead? Time for a direct comparison!
Comparison with Dyson V11
Like all new top models, the Dreame V11 will also be competing with the Dyson V11. First the technical data in comparison.
Dreame V11

 

Dyson V11

 

Suction power
25,000 pa

 

(150 AW)
24,000 pa (140 AW)
Display
LED
LCD
Wipe function
no
no
App
no App
no App
Operating Volume
65, 69, 73 dB (depending on suction stage)
65, 68, 74 dB (after ascending suction stage, measured at a distance of 1 m)
Battery
3000 mAh
3600 mAh
Suction stages/cleaning modes
Three
Three
Working time
90, 30, 10 min (with increasing suction stage)
60 min (Eco), 8 min ("Boost", max. suction power)
Charging time
4 h
4,5 h
Dust chamber
0.6 l
0.7 l
Dimensions
122.1 x 20.2 cm
128.6 x 26.1 x 25.0 cm
Weight
1.6 kg as manual vacuum cleaner, 3.9 kg completely removed
3.0 kg as manual vacuum cleaner
CE mark
yes
yes
What do I miss functionally in both models, which one can expect from models above $300? You don't need an app for a cordless vacuum cleaner, an optional water tank with wipe is more likely. So you can vacuum and wipe at the same time, like with the Roidmi NEX. I would personally like to have LED lights on the floor nozzle for dark corners as well.
In terms of suction power, the two models don't give each other too much credit, although the Dyson's cyclone technology does give better results on all surfaces. The firm nylon bristles on the floor nozzle penetrate floors and carpets a little more. The roller also rotates a little faster. But these are differences that you only notice when you really want to.
Advantages of the Dreame V11 are clearly in the handling, in the handling. From my point of view, the Dyson V11 Absolute weighs one or two kilos too much due to its heavy main element, which makes it noticeable in the wrist when working with it for a long time. Also, the Dyson's trigger has to be pressed continuously, which can be uncomfortable during longer work. This is optional with the Dreame. Another plus point for Dreame: the working time at the lowest suction level is a good 30 minutes longer than with the Dyson.
Dyson also has no advantage in terms of design and finish. On the other hand, the V11 Absolute offers 0.1 l more potential filling capacity in the dust chamber and the Torque Drive brush for carpets mentioned earlier. This makes the Dyson the best cordless vacuum cleaner for carpets of all models I tested. The Torque Drive really vacuums up on carpets and pulls out almost everything.
From my point of view, the differences between the two models are there, but both don't give as much as the price difference and years of Dyson development history would suggest. But, as you know, it's up to the individual to decide. The fact is that Dyson's lead over China is smaller than you might think.
Conclusion: Buy a Dreame V11 cordless vacuum cleaner?
Dreame produces good, high quality and absolutely functional battery vacuum cleaners for comparatively little money. There is no need to discuss this. What has been discussed so far is why other Chinese manufacturers like Roborock with the H6 or Tineco with the S12 Plus could become serious Dyson competitors, but Dreame did not. It's quite simple: they are strong in the mid-range segment, but lacked the figurehead, the flagship model. The Dreame V11 fills precisely this gap in the product range.
And it does it really well: the advantages of the previous models combined with more suction power and display. Sometimes it's that simple. But you should really want to have the display with you, otherwise the cheaper handle to the V9  or V10, which all don't give themselves too much, will be enough.
What do you think of the new Dreame? What are your experiences with the brand?
high suction power
good handling
Display
Release can be unlocked and locked
From "China Gadgets, Tim"
Link: https://china-gadgets.com/dreame-v11-battery-vacuum-cleaner/
If the author finds it inappropriate to forward, we apologize and delete it immediately.